She's known for courting controversy but Katie Hopkins appears to have out-done herself with her latest Twitter rant. The 39-year-old former reality TV star opened up on her feelings about Islamic festival Ramadan.
Muslims worldwide will be observing a month of fasting as it is now the ninth month of the Islamic calendar. Katie tweeted on Sunday evening: "Ramadan typically brings a spike in violence in Middle East. I get grumpy when I don't eat – but I don't blow things up. Religion of peace?"
But she didn't stop there; the mother-of-three then compared Ramadan, which is widely regarded as one of the Five Pillars of Islam, to the trendy 5:2 diet. She added: "If we take 5:2 as a basic idea, what is the ratio for Ramadan? 18:6?"
Needless to say, Twitter users didn't take to the tweet very kindly and many replied to the TV personality. One user said: "Katie Hopkins. Islam is no Religion of Peace you say? I'm tempted to insult you, but falter because it's Ramadan. You mentioned peace?" Another added: "Oh dear how could I've not expected Katie Hopkins to make a ridiculous comment on Ramadan"
But Katie didn't leave it there, then adding in a comment about her interpretation of the Islamic views on sexuality. She said: "Are you celebrating Ramadan? Here is a picture of a juicy cake. Rainbow cake. #itsgoodtobegay". And then added: "For all my Muslim friends posting as if Islam is tolerant of LGBT community, I fail to see evidence of this day to day.#ReligionOfPeace"
It remains to be seen if Katie will comment on the topic again.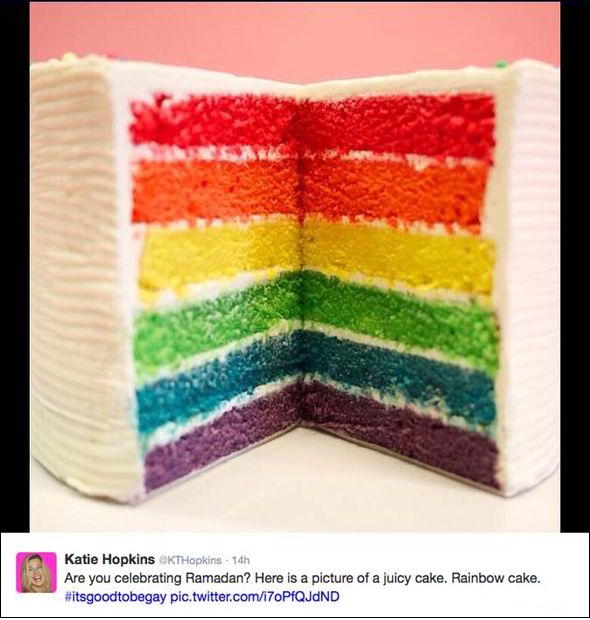 Update:  See Muddassar Ahmed, "Despite Katie Hopkins' taunts to Muslims, Ramadan is about British values: A personal view", Daily Express, 4 July 2014
Update 2:  See "Katie Hopkins continues anti-Islam rant, wants to 'ban the burqa' after controversial 'ISIS cake' tweets", Huffington Post, 4 July 2014