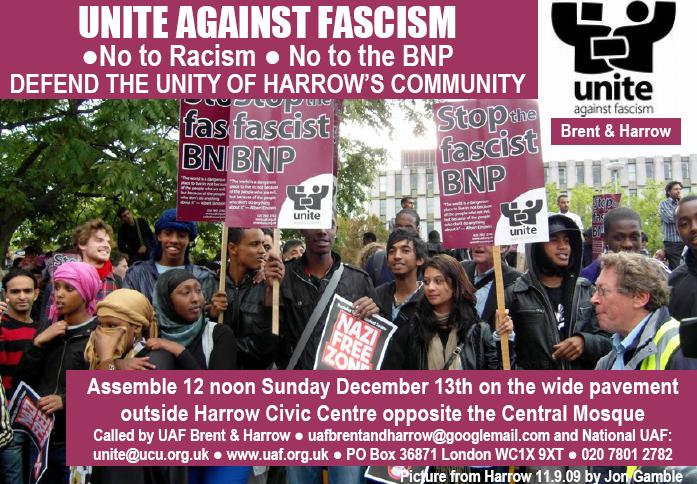 Ken Livingstone, chair of Unite Against Fascism and former mayor of London, spoke out today to condemn the anti-Muslim bigots who are threatening to march on Harrow Central Mosque this Sunday. UAF has called a solidarity demonstration on the day to defend the mosque, which was previously targeted by racists in September this year.
Livingstone said: "These protests and the ones by the English Defence League around the country are violent and overtly anti-Muslim. If anyone were to call a demonstration outside a synagogue or church this would rightly provoke a national outcry. There should be exactly the same response from the government, politicians, all religious faiths and the media to the call for a demonstration outside a mosque.
"The only possible meaning of this event is a protest against Muslims and Islam – a religion followed by more than a billion people across the world. People should wake up to the fact that these protests outside mosques are taking us back to the 1930s when fascist thugs marched against Jews and their places of worship. This demonstration should be condemned and banned on the grounds of being blatant religious discrimination and a threat to public order."
Weyman Bennett, joint secretary of Unite Against Fascism, added: "Sunday's anti-Muslim protest, the racist demonstrations by the English Defence League, and the rabid Islamophobia of the Nazi BNP are all linked together. We are seeing a rising tide of racism in society aided and abetted by fascist and Nazi groups. We have to take a stand against this poison that threatens our multiracial and multicultural society. That is why we urge all anti-racists to join the UAF solidarity protest in Harrow on Sunday."
The UAF demonstration assembles at 12 noon on Sunday 13 December, outside Harrow Civic Centre on Station Road directly opposite the mosque (nearest tube: Harrow & Wealdstone).