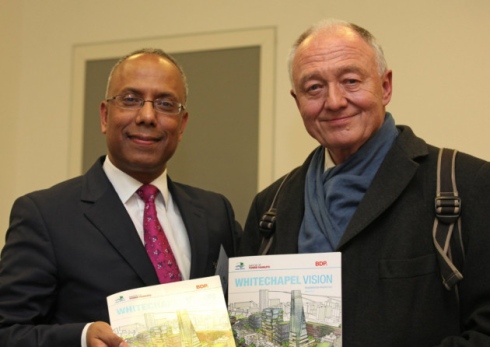 Ken Livingstone today threw his support behind the controversial Mayor of Tower Hamlets after a BBC Panorama investigation into his administration. The former Labour Mayor of London defended Lutfur Rahman's record since he became the borough's first directly-elected Mayor after beating a Labour rival in 2010.
Mr Livingstone said his close friend and ally had been "forced out of the Labour Party quite unfairly" just months before the election in 2010 amid allegations of links to the Islamic Forum of Europe, and called for his re-admittance. Mr Rahman denied the alleged links.
Asked if he was a supporter of Mr Rahman, who is standing against Labour Assembly Member John Biggs for the Mayoral nomination, Mr Livingstone – a current Labour Party member – replied: "I am, I think he has done very well."
Speaking on the BBC's Daily Politics, he went on to launch a scathing attack on the borough's divided Labour group – at that time led by Mr Rahman – which controlled the council before the 2010 election. Mr Livingstone added: "Before Lutfur Rahman that was the problem; the Labour group leadership – which I thought was so discredited – used to play off one section of the community against another. Lutfur has reached out to all communities.
"Tower Hamlets politics is about the most poisonous in Britain. He was forced out of the Labour Party quite unfairly. The reality is I hope once the selection is out of the way things will calm down and we might be able to bring people back together again."
Mr Livingstone also recently said he was "looking forward to working closely" with Mr Rahman on a project for the regeneration of Whitechapel. Former Local Government Minister and Conservative Party chairman Bob Neill said Tower Hamlets has become a "rogue authority", adding: "I think this is as bad as any local authority I have seen in my career in local government."
The BBC was forced to apologise after last night's documentary after a data breach of sources who had contributed to the programme was revealed.
Mr Rahman, who is a Muslim of Bangladeshi origin, said in a statement today that the programme had "racial and Islamophobic overtones."
Nobody from the Labour Party was immediately available to comment on Mr Livingstone's comments.
Evening Standard, 1 April 2014
See also "Panorama: Ken Livingstone defends Lutfur Rahman, says he 'fell asleep' during BBC broadcast", East London Advertiser, 1 April 2014