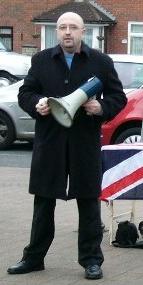 Kevin Quinn, the leader of a right wing party convicted of a religiously aggravated public order offence after a racist speech in South Oxhey, has received a six-month suspended prison sentence.
Quinn launched a tirade of abuse at a British First Party rally after setting up a stall with Union flags in the shopping precinct on Saturday, December 1, 2007. The 44-year-old was arrested after he was heard to shout all Muslims are b******s, while referring to the plight of British school teacher Gillian Gibbons, accused of blasphemy in Sudan after allowing children to name a Teddy Bear Muhammad.
Quinn was found guilty after a second trial at St Albans Crown Court in March and sentence was adjourned for reports until Monday. The jury in the first trial was discharged when they could not reach a verdict on Quinn of Ousland Road, Queens Park, Bedford. A two-year suspended sentence imposed on the unemployed father of four, for disseminating racist literature had only just expired when he took to the stand in South Oxhey.
Before sentencing, Judge Stephen Warner said:
"The jury found you used abusive or insulting words directed towards those of the Muslim faith. There is a right of freedom of speech in this country, which extends to those such as yourself who seek to express in public views such as yours however offensive many may find them to be. That right, however, does not include the right to insult or abuse such members of the public that are exposed to that behaviour.
"A member of the public felt sufficiently strongly to contact police because you had abused that freedom of expression. You have a long history of involvement in extreme organisations and clearly hold deeply entrenched views consistent with that ideology."
He concluded: "The option I face is to send you to prison today, which many would regard you thoroughly deserve, or an alternative course to mark the seriousness of the offence but allow you to stay in the community."
Judge Warner suspended the six-month sentence for 18 months. Quinn was also ordered to carry out 250 hours unpaid work, and subjected to a four-month curfew from 7pm to 6am.