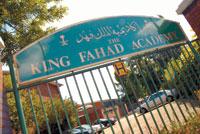 A school accused of using textbooks that called Jews "apes" and Christians "pigs" has been cleared of racism by Government Inspectors.
The Saudi-funded King Fahad Academy, in Bromyard Avenue East, Acton, provides a "satisfactory education" according to Ofsted inspectors, who made a surprise visit to the school last Thursday.
Education ministers had ordered an inquiry into the independent school after allegations of "institutionalised racism" surfaced two weeks ago. But the unannounced visit by inspectors found the school met "all the regulations concerning pupils' spiritual, moral, social and cultural education".
Inspectors looked at lesson plans, store rooms and documents, as well as randomly interviewing teachers and 30 pupils aged between 13 and 16. They said the school had been "open and co-operative".
"Lesson observations, curriculum plans and discussion with pupils indicate that there are good opportunities provided for pupils to learn about their own and other cultures and religions," the report stated. "Pupils express their opinions freely and well, showing good empathy and tolerance of others' views. They show good awareness of topical issues and knowledge of British institutions. This reflects the school's stated aims and ethos."
Principal of the school Dr Sumaya Alyusuf said she was "delighted" inspectors had cleared the school of teaching any kind of racial hatred. But she admitted she should have "chucked out" the entire books rather than just removing offending chapters after the controversy hit the headlines.
She said: "The whole Academy community, including students, teachers, staff and parents, has suffered following these allegations. A number of students have been verbally abused and we understand that a parent was physically assaulted."
Ealing Times, 23 February 2007
See also BBC News, 21 February 2007
Can we now expect apologies from the Evening Standard, Melanie Phillips, Totally Jewish, Jihad Watch et al? Take a wild guess.