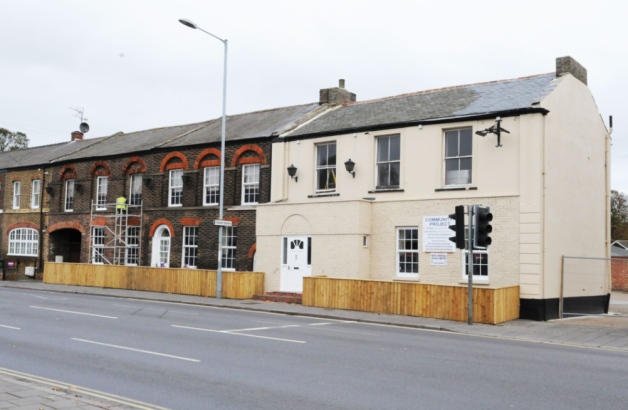 The first prayers have been held at a Lynn pub which was taken over by West Norfolk Islamic Association earlier this year for future use as a community centre.
After a complete makeover inside, and with plans for an upcoming official opening, the former Queen's Arms pub, in London Road, will soon be up and running for the community.
Azam Gabbair, president of West Norfolk Islamic Association (WNIA), said: "The considerable amount of work needed to convert and renovate the property is now near completion, and I would like to thank everyone who has assisted and been a part of this fantastic project.
"WNIA has been established for well over 20 years, bringing together people not just from within Lynn, but also others from surrounding areas. Similar to any social club, being able to meet and communicate in this way is a valuable part of community integration and in many ways undoubtedly a benefit to the town as a whole."
Planning permission was granted for the project back in April, and the centre has previously come under fire, with more than 700 objections to the plans posted on Norfolk County Council's website.
Due to a lack of dedicated space the community's social activities were previously hosted in a number of different locations including Providence Street Youth Centre, South Wootton Village Hall, Leziate Village Hall and the Red Cross Centre.
Mr Gabbair said: "It was apparent there was an increasing need for a place where the Muslim community could socialise, but also to provide a cultural resource where people can learn about real Islamic values and history to help us integrate in a larger community.
The new centre is planned to cater for the needs of the community by providing a civic venue for the hosting of meetings and other social activities.
Mr Gabbair said: "The size of the building makes this multi-functional venue both practical and especially attractive for the WNIA, but is also beneficial and of use to the local businesses, organisations, social clubs and the community.
"As we are in the final phases of completing the renovation the centre has started to open in a limited capacity for Friday prayers, which are conducted between 1pm and 2pm. The overall response from the community has been overwhelming and full of emotional joy.
He added: "Bringing new life back into the building and investing in the town has been a very exciting journey."
---
In 2012, after the West Norfolk Islamic Association announced that it was applying for planning permission to convert the former pub, the building was vandalised with anti-Muslim graffiti. Objections to the development posted on West Norfolk Council's website had to be removed because they contravened the ban on racist or inflammatory content.
A campaign against the development was headed by one Stephen Tweed, local organiser for the far-right British Freedom party, whose Facebook page featured a photo of a burning mosque and who openly referred to Muslims as "bearded scum".
When Tweed spoke at the council planning committee that considered WNIA's application he asserted that it was contrary to English law to spread Islamic doctrine. He was told to shut up and the committee proceeded to grant planning permission.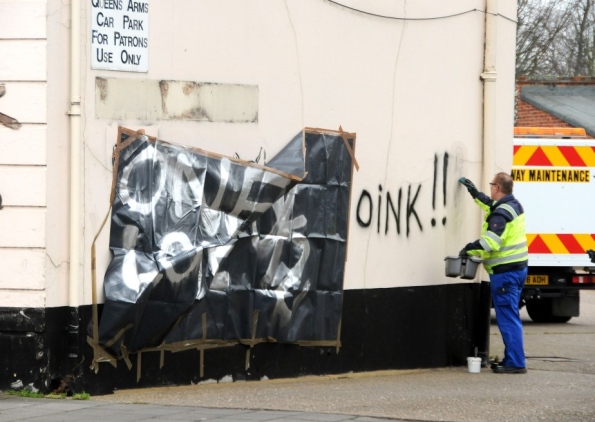 Anti-Muslim graffiti being removed from the wall of the Queen's Arms