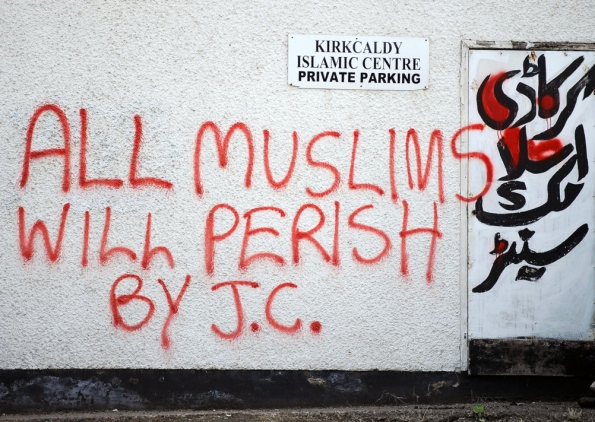 Extra police patrols are being sent out around a Muslim family centre in Kirkcaldy after it was targeted in a sickening hate crime.
Just hours before the start of Ramadan, the most holy festival in the Muslim calendar, anti-Islamic grafitti was spray painted on walls around the Kirkcaldy Islamic Centre in the town's St Mary's Road. And five vehicles belonging to members of the centre, where hundreds of Muslims go to pray as well as take part in many other community activities, were also targeted on Monday night. Crosses were painted on number plates, windows and on a bonnet.
Police in Kirkcaldy have put on extra patrols in the area and have spoken to the centre management about improving their security. And they have appealed to members of the public to report any information or suspicious behaviour in the area.
Mohammed Aslan, chairman of the centre, was keen to play down the incident and said he did not believe it had been planned to coincide with the start of Ramadan. "This is the first time anything like this has happened to us in more than five years we have been in Kirkcaldy, and hopefully it won't happen again," he said. "It is not very nice and will cost hundreds of £s to fix."
The grafitti has since been painted over as more than 100 worshippers were expected to visit the centre's mosque on Tuesday for prayers to mark the start of Ramadan.
Farhan Gour (19), from Kirkcaldy, has lived in the town all his life. He said: "This is a terrible thing to happen, particularly when we are all so excited about the start of Ramadan. We have been worshipping here for five years and we don't do anyone any harm. It is horrible that some people think this way."
Naeem Khalid, co-ordinator of Fairness, Race Awareness and Equality (FRAE) Fife, said: "This centre is used as a hub by many members of the Islamic community, not just in Kirkcaldy but also Leven and Methil, and it does lots of work in the wider local community with organisations such as women's groups and the Scouts to raise awareness.
"This was a callous act at a very sensitive time, and we are hoping that it was just an isolated incident. Police have put on extra patrols and carried out door-to-door enquiries in the area as a proactive measure which is good. For the next 30 days there will be prayer events held five times a day and people worshipping don't want to have to worry about their vehicles being vandalised while they are in the centre."
Chief inspector, Gordon Mitchell said: "This is a terrible crime and I appeal to anyone who has any information about it to contact Police Scotland on 101 or Crimestoppers on 0800 555 111. People can also speak to officers who are patrolling the area.''
Update:  Here, via Expose, is the response of EDL supporters to the news.