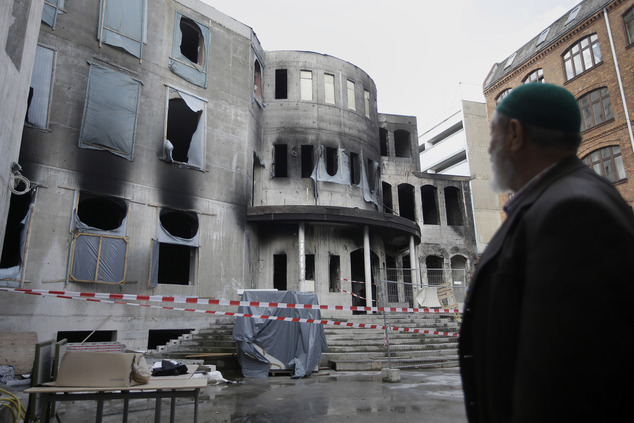 Police had believed that the fire at the Mevlana mosque in Kreuzberg might have been caused by a technical fault or started accidentally, but both of those possibilities have now been ruled out.
"We never ruled out arson," Berlin police spokesman Thomas Neuendorf told The Local. "There was no direct evidence of an arson attack, no traces of a break-in… but by a process of elimination it turned out that it was probably a deliberately started fire."
Germany's vice-chancellor Sigmar Gabriel was already speaking of an "attack" in the days before the police announcement on a visit to the mosque, describing arson on a place of worship as "an attack on the centre of society".
The fire began in building materials stored in an unfinished extension to the structure and caused smoke damage to the facade and the interior of the mosque. Renovation and extension work has been going on at the site since 2013. More than 60 firefighters were deployed to put out the blaze.
Members of the congregation have been praying in the street since the fire on August 11th.
Neuendorf said that times of conflict in the Middle East can lead to an increase in violent crime in Germany. "When a mosque is burned, that has to be taken very seriously," he said. "There is no evidence of what the motive might be… but the target itself suggests that it might be political. When there are tensions in other countries, that can also lead to political crimes here… graffiti will increase, physical attacks will increase."
Seven Berlin mosques were attacked by arsonists over the course of six months in 2010 and 2011, including the Shitlik mosque on Columbiadamm, the Neukölln Al-Nur mosque and an Islamic cultural centre in Tempelhof. No-one was hurt in any of the attacks but many of the buildings were damaged.
A list of all attacks on Muslim places of worship released by the government in June showed that 78 criminal acts, ranging from graffiti to threats and arson, were committed between January 2012 and spring 2014.
This was an increase over the average rate of two per month between 2001 and 2011.