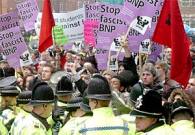 The jury at Leeds Crown Court was given copies of extracts from the Koran which BNP leader Nick Griffin discussed in detail. Mr Griffin said he wanted the jury to read sections of the Koran as he claimed Islam was incompatible with British democracy.
After quoting from chapters of the text, Griffin said the verses justified "the epidemic of anti-white racist attacks and also attacks on Sikhs, Hindus and black people in every city in this land where there is a significant Muslim population". Mr Griffin quoted further sections, claiming the verses justified Islam treating women as "sexual playthings of very little value beyond that" and also violence, including the 9/11 attacks in the US.
He told the jury he had spent a lot of time studying the Koran and believed it was often misquoted by politicians, including Prime Minister Tony Blair, as they tried to claim Islam was a peaceful faith. "Islam and our democracy are totally incompatible," he said.