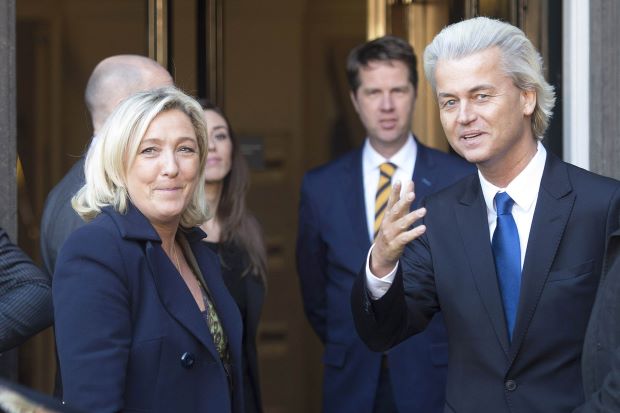 Marine Le Pen, leader of the French far-right National Front, joined notorious anti-Islam politician Geert Wilders in The Hague on Wednesday to announce a "historic" Europe-wide alliance of far-right parties ahead of next year's European elections.
French far-right leader Marine Le Pen and Dutch anti-Islamic leader Geert Wilders on Wednesday launched what they called a "historic" alliance to fight next year's European elections, with other eurosceptic parties expected to join.
"Today is a historic day. We have taken a decision to ally ourselves with other patriots willing to work within the same dynamic," Le Pen told journalists after talks with Party for Freedom (PVV) leader Wilders.
"Today is the start of the liberation of Europe from the monster of Brussels," said Wilders, known for his platinum-blonde hair and his eurosceptic and anti-Islamic views.
He said last month he and Le Pen would explore building ties ahead of next May's European Parliament elections, held against a backdrop of discontent over Europe's economic woes.
Both Le Pen's National Front (FN) in France and Wilders' PVV have said they would like to unite eurosceptic right-wing parties across the continent, as a way to challenge the European Union from within.
"Working together, we want to repatriate the ability to decide ourselves how we control our borders, how we control our money and our economy," Wilders said.
While Le Pen and Wilders met, a small group of around 20 people protested loudly outside parliament by banging drums and blowing air horns.
"We are here to protest against racism, which is what both Le Pen and Wilders' parties stand for," said a protester who asked not to be named, brandishing a placard with Le Pen's face covered by a no-entry sign.
"This alliance is dangerous," said demonstrator Ewout van den Berg, 26. "We're against Wilders, against Le Pen and against all those who want to polarise society," he said.
In order to form a far-right anti-European bloc, Wilders and Le Pen would have to find like-minded politicians in at least a quarter of the EU's 28 member states and see 25 members elected to the 766-seat European Parliament.
If they become an official European political group, they would benefit from subsidies, offices, a communication budget, seats on committees and speaking time in parliament proportional to their number.