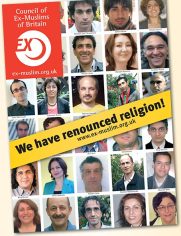 Critic of Islam, Ehsan Jami, and Freedom Party leader, Geert Wilders, compared the Prophet Mohammed to Adolf Hitler in a co-written article published in the Dutch daily Volkskrant Thursday.
In their article, Wilders and Jami say strong criticism of Islam is absolutely necessary. "If we do not act now against the far-reaching Islamisation of the Netherlands, then the 1930s will be revived. The only difference is that back then the danger came from Adolf Hitler, while today it comes from Mohammed."
The 22-year old Jami is a council member for the Labour (PvdA) party in Leidschendam-Voorburg and the chairman of the Committee for former Muslims. He has received little public support from his party following his criticism of Islam. Geert Wilders leads the liberal-rightist Freedom Party (PVV). He has argued in favour of prohibiting the Koran, referring to it as a book that incites violence.
Digital Journal, 27 September 2007
Ehsan Jami's Committee of ex-Muslims was launched on 11 September with the support of the Council of ex-Muslims of Britain (formed in June with with the backing of the National Secular Society), on whose behalf Maryam Namazie attended the launch meeting in The Hague and signed a declaration in support of Jami's initiative. Can we take it that Namazie, Terry Sanderson, A.C. Grayling et al. will now publicly condemn Jami's rotten alliance with a far-right racist like Wilders and dissociate themselves from his committee? Don't hold your breath.