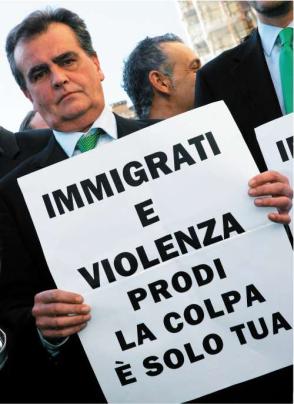 Italy could be the next European country  to consider a referendum on the building of Islamic minarets following the Swiss vote to ban the structures.
Cabinet minister Roberto Calderoli, of the xenophobic Northern League, said Italy should confirm its Roman Catholic roots and hold a vote as soon as possible.
Like the Swiss, Italian voters can have a direct say on an issue if a minimum number of signatures are gathered calling for a referendum. The League is expected to now start the process for a referendum, despite the Vatican expressing unease over the Swiss vote.
Calderoli said the Swiss decision was a triumphant "yes to bell towers and no to minarets" that served as an important example for other European countries losing touch with their Christian identities. Others within the anti-immigration Northern League have called for a cross to be inserted on the Italian national flag to symbolise the deep Christian roots of the country.
The Northern League have frequently made headlines for their views on Islam and immigration, most notably during the Danish cartoon row in 2006, when Mr Calederoli wore a T-shirt emblazoned with one of the anti-Islamic images.
They have also allowed pigs to graze over sites where mosques were earmarked in order to make them unholy, while recently, the Northern League was accused of racism after it emerged that a local scheme to rid a town of illegal immigrants had been nicknamed "White Christmas".
---
See also "Swiss minaret ban spills over Europe", Islam Online, 30 November 2009
And Radio Free Europe reports: "Danish People's Party head Pia Kjaersgaard welcomed the Swiss ban and said her party would also seek a similar vote. Martin Henriksen, a deputy for the Danish People's Party, acknowledged that Denmark currently had no mosques with minarets. But he told RFE/RL that Muslim immigrants have to adapt to Danish society, not the other way around. 'There are plans in Copenhagen and other Danish cities to build grand mosques, and we oppose it in every way possible. And this could be another way to oppose it'."