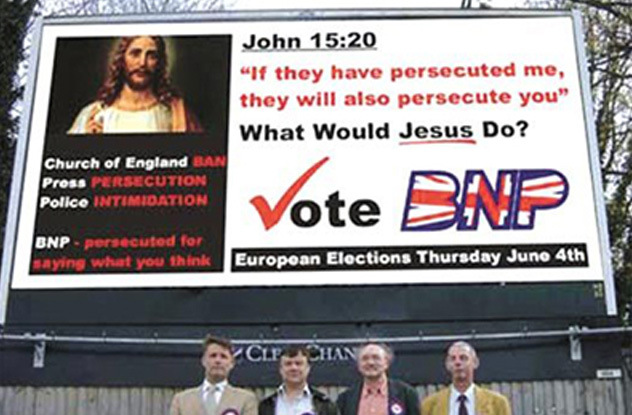 A row has broken out after the British National Party tried to use Lichfield Cathedral as the backdrop for an advertising campaign.
The Archdeacon of Lichfield, the Ven Chris Liley, has hit out at the BNP after an activist turned up in Cathedral Close on Tuesday afternoon with a large advertising van displaying a pro-BNP poster.
The move comes as the debate over plans by the Muslim community to build a mosque in the city rages on with more than 5,000 people voicing objections to the plan on a Facebook site. The BNP activist was challenged by the Archdeacon who "required him" to stop taking photographs and to remove the van from cathedral precincts.
The cathedral authorities have revealed they will now be writing to the BNP to "demand" it does not publish any promotional or marketing material which uses the cathedral as a backdrop or implies any endorsement of the BNP's views or policies by the cathedral.
The BNP defended its actions claiming it is "voicing the opinion of the people of Lichfield". BNP spokesman Simon Darby told local website The Lichfield Blog:
"We sent our truth truck along because a lot of people in Lichfield are very upset by the planned mosque. If this was a Labour or Islamic poster would the cathedral have taken the same action? The Archdeacon should spend more time defending the Christian faith because it needs it."
In recent weeks the BNP has been targeting Christian voters and last month unveiled an advertising poster headed: What would Jesus Do – Vote BNP. Chris Liley added: "The BNP are wrong to suggest Jesus would vote for the BNP. His parable of the Good Samaritan was a clear example about the value we should place on people from other communities."
Birmingham Mail, 23 April 2009
See also Chris Liley's post at Comment is Free, 23 April 2009