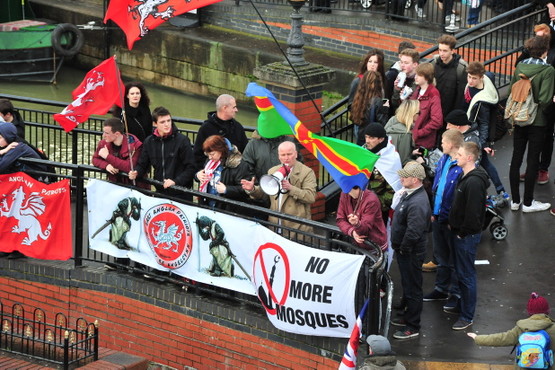 Around 150 East Anglian Patriot demonstrators descended on Lincoln this afternoon to protest against the building of a mosque in the city. The group says it does not want the mosque to be built on the site of the Old Dairy in Boultham Park Road.
The protestors marched into City Square while chanting songs including "burn the poppy we will burn the mosque".
Once in City Square, members of the group addressed the crowds. Paul Pitt said: "We are the people that come from the British Empire. It is not in our genes to give up. It is not in our genes to surrender."
Another speaker accused MPs of trying to brainwash people into being too scared to speak out about so called Islamification. "If enough people are brainwashed into believing they are afraid to speak out there is nobody to oppose them," he said. "Where they start is in the schools. They can't brainwash us because we are wise."
Lincolnshire Echo, 18 January 2014
Lincoln Against Racism and Fascism's counter-demonstration against the far-right East Anglian Patriots proved yet again that the city's residents will not be bullied by extremists.
Police estimate around 150 people marched in support of the LARF demonstration which travelled from St. Martin's Court at 11 am down to the Cornhill where organiser Nick Parker introduced a number of speakers. Their march, sensibly policed throughout, went off peacefully and among the speakers was Rob Parker, deputy leader of the Labour Group.
He said: "Lincoln is a fascist-free zone – we are moving forward with the Muslim and Islamic community in order to deliver a mosque in this city. I don't know why the EAP came back here. We made our position to them very clear back in June and it has not changed. I don't think I can do better than the headline in the Lincolnshire Echo this week which said 'Stay Away'. Accepting the planning application for the mosque was the right thing to do. Every time the EAP come, people like us will be together to show our opposition to their views."
Gavyn Graham, assistant branch secretary of Unison in Lincolnshire, added: "When the fascists came to our city last July, they laid down a challenge. The streets are not theirs, they are our streets. You cannot turn your back on fascists. If we do that, racist attacks will rise and divisions will happen within our society. They have billed their march as a unity march but it is not. They do not represent a multi-cultural diverse society, we do."
Lincolnshire Echo, 18 January 2014
See also "Death threat sent to East Anglian Patriots counter-demo organiser Nick Parker", Lincolnshire Echo, 18 January 2014
And "PICTURES: Lincoln Against Racism and Fascism march", Lincolnshire Echo, 18 January 2014