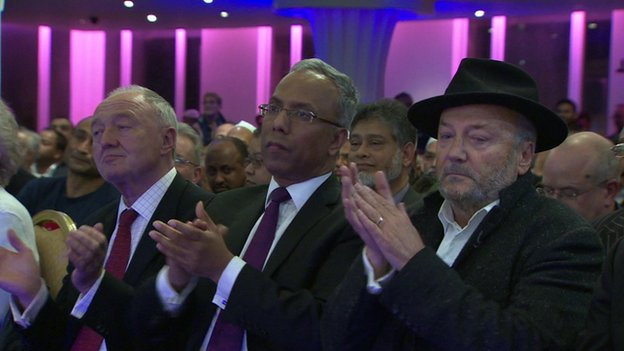 Senior political figures George Galloway MP and former Mayor of London Ken Livingstone last night spoke out in defence of controversial Tower Hamlets Mayor Lutfur Rahman.
Around 1,000 people attended a rally arranged by Organisation for Democracy and Freedom at The Waterlily in Whitechapel.
The event involved a number of speakers from groups including Left Unity who defended the Mayor against what they said was "nothing short of a political attack on a council that has done so well".
Rahman was criticised earlier this month in a PricewaterhouseCoopers report commissioned by the Department for Communities and Local Government.
The report stated he had failed to provide taxpayers with "value for money" after giving grants to Bangladeshi and Somali-led organisations, also finding he had created a "culture of cronyism" that allegedly undermined the democratic process.
Despite the report finding no evidence of illegality, secretary of state Erick Pickles told the House of Commons he would send in commissioners to oversee three aspects of governance in Tower Hamlets Council involving grant-making.
Galloway told ELL: "There is absolutely nothing substantial in the report. It's a political set-up. The report found that there are weaknesses, just like there are weaknesses in any big administration that employs a large number of people…you only need to look at the British Parliament with MPs fiddling their expenses. But dishonesty and impropriety – absolutely not."
Addressing the meeting Ken Livingstone said: "Lutfur's record is outstanding, and it is a record any Labour authority in Britain should be proud of. It's a lot better than many Labour councils up and down the country."
"And yes there are problems. PricewaterhouseCoopers identified problems. But they didn't identify any problems with the world's banks. I say this to Lutfur: fight on all fronts, get a bloody good lawyer and take Eric Pickles to court."
Rahman was elected as a Labour councillor in 2002. He was removed as the party's candidate for the Tower Hamlets mayoral election of 2010 after allegations that Rahman had signed up fake members in order to win the Labour nomination. Rahman subsequently won the election as an Independent candidate.
East London Lines, 13 November 2014
See also "Tower Hamlets mayor defended by George Galloway MP", BBC News, 12 November 2014
And "Report: Defend Democracy in Tower Hamlets meeting", Left Unity, 13 November 2014
And "Lutfur Rahman: 'not under attack for what he's done wrong, but for what he's done right'", Counterfire, 13 November 2014
Also "Ockendon councillor Aaron Kiely slams witch hunt of Tower Hamlets mayor", YourThurrock, 13 November 2014

Here is the Times report of the rally:
Ken Livingstone fuels tension in East End
By Dominic Kennedy
Ken Livingstone has urged protesters to discover the home addresses of commissioners sent by Eric Pickles to run a failing council and "make their lives intolerable".
The former mayor of London's inflammatory remarks, made last night at a public meeting, risk fuelling tensions in a borough blighted by allegations of political intimidation.
Mr Livingstone was one of two members of Labour's ruling national executive committee (NEC) to speak in support of Lutfur Rahman, who is fighting a High Court petition claiming that his election was fraudulent.
Mr Pickles, the communities and local government secretary, threatened last week to send three commissioners to run Tower Hamlets council in east London after inspectors discovered flaws in grant-giving and the sale of buildings.
Labour supports the government's seizure of powers from the independent mayor, who beat Labour's candidate in May's elections by 3,000 votes.
In his speech, Mr Livingstone urged Mr Rahman: "Fight on all fronts. When these commissioners turn up, find out where they live and then have a peaceful demonstration outside their homes so their neighbours know these are the kind of people who overturn a democratically elected mayor. Make their lives intolerable. This is an appalling situation."
The High Court petition claims that local residents were intimidated into voting for Mr Rahman. The petitioners have since claimed that their potential witnesses have been threatened. Mr Rahman has publicly condemned intimidation and urged anyone with evidence to report it to the police.
Christine Shawcroft, also an NEC member, told the gathering in Mile End that she was "proud to be standing here in support of democracy in Tower Hamlets and in favour of Lutfur Rahman". The presence of senior figures is an embarrassment for Ed Miliband's party. Mr Rahman told cheering supporters that he condemned the "hypocritical reactionaries" who he claimed ran Labour in his area.
George Galloway, who in 2005 snatched the seat of Bethnal Green and Bow from Labour, made a triumphant return to the East End. Mr Galloway, who now represents Bradford West, made clear that he would target Labour's Rushanara Ali, his successor in the London seat, at the general election by getting a Respect candidate to fight her unless Mr Rahman's own Tower Hamlets First party challenges her.
Natasha Bolter, who was at the meeting, said: "Tower Hamlets is becoming ghettoised. All the money is going to the mosques and Bangladeshi charities."