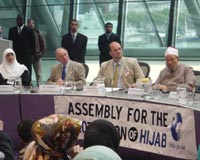 The pro-hijab conference held Monday, July 12, at the Greater London Authority, announced an international hijab solidarity day and an action plan to defend the right of Muslim women to take on the headscarf.
Titled the Assembly for the Protection of Hijab, the conference declared September 4, 2004, an International Hijab Solidarity Day because Muslim students across Europe will be back to school by then.
Participants also pledged to rally behind young Muslim girls, who are discriminated against in their western society because of their hijab.
The conference further unveiled a plan of action to build on the recommendations of the one-day conference, calling for educating people on the importance of hijab to Muslim women through seminars and media.
The Pro-Hijab group, which organizes the conference, has also already booked a room in the European Parliament to give a presentation on hijab on September 22.
Abeer Pharaon, Pro-Hijab Coordinator, told IslamOnline.net that participants discussed "the hijab ban, its implications and its impact upon the European communities. As well as organizing the efforts of individuals and organizations in Europe and around the world."
She noted that the "assembly has received the support of many Muslim and non-Muslim organizations of different faiths and communities; as well as MPs [Members of Parliament] and MEPs [Members of European Parliament].
"This campaign is not for Muslim women only, it is for any one who believes that it is a Muslim woman's right to wear hijab."
Hosted by London Mayor Ken Livingstone, the conference brought together 300 delegates, representing 102 British and international organizations as well as leading Muslim figures like Sheikh Yusuf Al-Qaradawi and professor Tarek Ramadan.
Commenting on the banning of hijab in some European countries, including France, Livingstone said, "The Muslims of London should not face the same situation."
He stressed that "the only people who will benefit from the Hijab ban is the extremist rightists and the fascists. Those people previously targeted the blacks, targeted the Jews and targeted the Communists."
London mayor maintained, "If we allow this assault against Islam, who knows who will be next to be stigmatized and victimized."