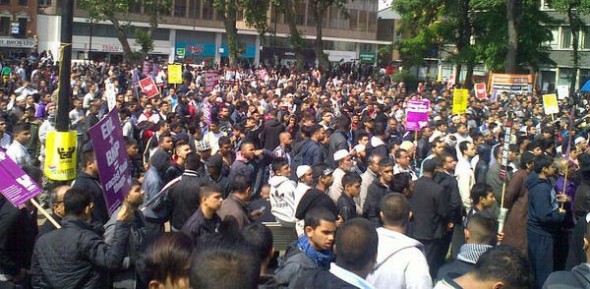 Around 5,000 people marched through the East End of London today in a huge show of unity and defiance against racism and fascism.
The demonstration organised by UAF and United East End was orginally called as a counter-protest against the racist English Defence League, which has links with the British National Party and other fascist groups – but the racists abandoned their plans to come to Tower Hamlets as the scale of opposition to them became clear.
There was a great turnout on today's antiracist demo anyway, with marchers determined to show that racism and fascism are not welcome in the East End. Large numbers of local young people were joined by trade unionists and people from every part of the area's diverse population in an exuberant demonstration.
See also Socialist Worker, 20 June 2010
Update:  Read Dave Hill's take on the afternoon's events at Dave Hill's London Blog, 21 June 2010