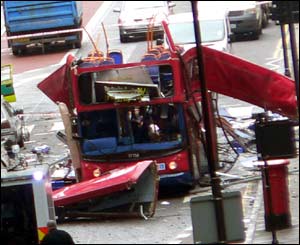 London's Mayor Ken Livingstone who is in Singapore for the IOC Session has condemned the attacks on the city's rail and bus systems.
He said the London's security and emergency services are prepared for such acts, and have executed their operations efficiently.
Mr Livingstone criticised the blast as an "indiscriminate attempt at mass murder" and had strong words for those who committed the act.
"This was not a terrorist attack against the mighty and the powerful; it is not aimed at presidents or prime ministers; it was aimed at ordinary working class Londoners, black and white, Muslim and Christians, Hindu and Jew, young and old, indiscriminate attempt at slaughter irrespective of any considerations, of age, of class, of religion, whatever, that isn't an ideology, it isn't even a perverted faith, it's just indiscriminate attempt at mass murder, and we know what the objective is, they seek to divide London. They seek to turn Londoners against each other and Londoners will not be divided by this cowardly attack," said Mr Livingston.
He then had a message for the terrorists who had organised the explosions.
"I wish to speak through you directly, to those who came to London to claim lives, nothing you do, how many of us you kill will stop that flight to our cities where freedom is strong and where people can live in harmony with one another, whatever you do, how many you kill, you will fail."
See also "Terror attacks in London – statement from the Mayor", GLA press release, 7 July 2005
"Innocent people from all of London's communities have been targeted by this indiscriminate attack. I urge Londoners from all of this city's diverse communities and faiths to support one another and stand together against terrorism."