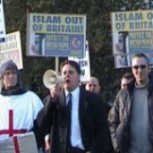 A new clash between the House of Lords and the Commons looks increasingly likely after peers voted overwhelmingly last night to amend the planned law against religious hatred to introduce safeguards protecting freedom of speech.
Although ministers indicated that they were prepared to compromise on aspects of the controversial proposals, the government appeared determined to reverse at least some elements of the Lords vote.
During a committee stage debate yesterday the Lords backed an all-party amendment substantially restricting the grounds on which the law could be applied. The government defeat, by 260 votes to 111, toughens the bill so that prosecutors must prove intent to cause religious hatred.
The amendment, which was sponsored by Labour, Conservative and Liberal Democrat peers as well as the former Archbishop of Canterbury Lord Carey, also tightens up the definition of language needed to bring a prosecution. This is now restricted to "threatening" rather than "insulting and abusive" language.
---
In other words, if their lordships' amendment were accepted, material such as the BNP leaflet referred to below would probably still not be liable to prosecution because it restricts itself to inciting hatred against Muslims by means of abuse and insults, rather than through explicit threats of violence. The present disparity between the legal protection provided to Jews and Sikhs against incitement to hatred, and the much weaker protection provided to Muslims and Hindus, would remain.