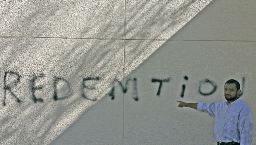 Vandals have struck a Lubbock mosque three times in the past month, prompting fear and calls for understanding among some in the religious center's community.
Most recently someone used black spray paint Tuesday night to write the misspelled word "Redemtion" on the building. Vandals have also trampled the mosque's flower beds and smashed exterior lights within the past month.
"I don't know what is the message they're trying to give," said Faiz Rahman, a member of the mosque and the adviser to Texas Tech University's Muslim Students Association. "Given that it happened three times within the last month, we're a little concerned."
Members of Lubbock's Muslim community estimate the local population of Muslims to be between 500 and 700 people. Membership at the mosque is about 150 people.
The rash of vandalism follows last month's completion of a renovation and expansion at the mosque. The center removed a fence surrounding the property and added a new 5,600-square-foot multipurpose building along, new landscaping and walkways.
El-Moctar said the goal of the renovation was to help integrate the mosque into the community. "I think maybe the building is becoming more visible and possibly more vulnerable," he said.
Rahman said the vandals should visit the mosque to gain a different perspective. "Probably they just don't know us – we invite people to come in, this is an open place," he said. "It's a place of worship and it should not be vandalized."
Associated Press, 26 October 2006
The mosque was previously targeted by racist vandals in 2004 (see here and here).