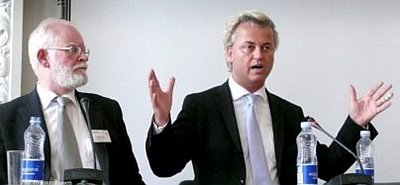 "Girls in Muslim families are raped by their uncles, their cousins, or their fathers."
While one can certainly question the validity of such a statement, or the wisdom of making it, a Frederiksberg court ruled it does not constitute racism or hate speech, at least not in the case of Lars Hedegaard [pictured, with Geert Wilders].
The court on Monday acquitted Hedegaard, president of the Danish Free Press Society, of charges of racism stemming from statements the historian and journalist made to a blogger in December 2009.
Although the court stated that it found Hedegaard's comments to be insulting, the acquittal was handed down due to the fact that Hedegaard did not know that his controversial comments would be published.
Hedegaard released a statement following his acquittal. "My detractors – the foes of free speech and the enablers of an Islamic ascendancy in the West – will claim that I was acquitted on a technicality," the statement read. "That is absolutely true. However, the public prosecutor has been privy to the circumstances surrounding my case for a year – and yet he chose to prosecute me. Obviously in the hope that he could secure a conviction given the Islamophile sentiment among our ruling classes. My acquittal is therefore a major victory for free speech."
Hedegaard's Free Press Society believes that free speech is "being threatened, primarily by religious and ideological interests and international pressure groups" and that Islam is the "most dangerous threat at the moment" against free expression.
During the trial, Hedegaard received support both domestically – most famously from the Danish People's Party's Jesper Langballe, whose statements in support of Hedegaard earned the MP a 5,000 kroner fine for what another court said constituted racism – and from what Hedegaard called "freedom fighters around the world".
According to Hedegaard's statement, his acquittal "will encourage people all over the West and beyond to speak up".
Copenhagen Post, 1 February 2011
---
Melanie Phillips will be pleased to hear the news. She denounced the prosecutions of Hedegaard and Langballe as "the Danish witch-hunt against the truth-tellers".