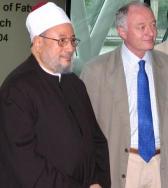 "Yusuf al-Qaradawi, probably the single most influential living Sunni Islamist figure, has just written a major book entitled Fiqh al-Jihad (The Jurisprudence of Jihad) which decisively repudiates al Qaeda's conception of jihad as a 'mad declaration of war upon the world'.
"At the same time, he strongly rejects what he calls efforts to remove jihad completely from Islam, and strongly reaffirms the duty of jihad in resisting the occupation of Muslim lands, specifically mentioning Israel as the arena of legitimate resistance.
"Qaradawi's intervention has thus far received no attention at all in the English-language media. It should, because of his vast influence and his long track record as an accurate barometer of mainstream Arab views….
"Fiqh al-Jihad stakes out the centrist (wasatiyya) ground where Qaradawi has always comfortably resided (he has authored dozens of books about wasatiyya concept). He rejects two trends: those who seek to eliminate jihad completely from the Muslim world, stripping it of its power and its ability to resist (which is how he sees the project of much of so-called moderate Islam or secularists); and those who apply it indiscriminately in a mad campaign of killing of all with whom they disagree (like al-Qaeda)….
"Qaradawi also offers an intriguing broadening of the concept of jihad, away from violence to the realm of ideas, media, and communication – which he calls the 'jihad of the age'. The weapons of this jihad should be TV, the internet, email and the like rather than guns. Persuading Muslims of the message of Islam and the importance of this jihad in the path of God should be the first priority, he argues: 'the jihad of the age, a great jihad, and a long jihad'. He also goes into great detail about the different forms of jihad, the need for pragmatism, and the diverse nature of possible relations between Muslims and non-Muslims."