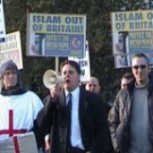 A Heaton Moor man who was accused of threatening and abusing two BNP members after he challenged them in the street was acquitted after magistrates dismissed their evidence.
Mohammed Latif, 38, was cleared of any wrong doing after he confronted the BNP members on Broadstone Road, Reddish, on April 9 after they placed a pamphlet through his door during the run-up to the European elections.
Duncan Warner, 44, the former head of the BNP Stockport branch and ordinary BNP member Gerard Williams, 54, had claimed Mr Latif had used abusive language, threatened them and tried to steal a bag of pamphlets they were handing out.
In court, chief magistrate Kenneth Bailey, who found Mr Latif not guilty of an offence under section five of the public order act, said: "The facts are that an incident took place and some words were exchanged. The dispute arise over the nature of the language and whether it was abusive and threatening.
"I find a difference in evidence given by Mr Williams and Mr Warner. Mr Williams evidence was short and vague, while Mr Warner's failed to convince that strong and abusive langauage was used. Mr Latif gave a more credible account of events."
Mr Latif, digital imaging manager, said: "I am glad the magistrates have seen sense and found in my favour. I decided to stand up for myself and it led to me being arrested, treated like a criminal and has caused me no end of distress and anguish.
"But it was the right thing to do, I am gald I have done it and feel totally vindicated. I am just an avearge person but stood up for what I believe in, the last thing I wanted was for my children to picking up a BNP and read literature like that and then have to explain it to them.
"The BNP see people like me as a foreigner, yet I was born here, my children was born here, I pay taxes and have just as much right as anyone else to be here. I am delighted the decision has gone my way and if it leaves the BNP in a negative position and makes a difference and curtails their advances in political areas then so be it."
The incident occured at around 12pm when Mr Latif on receiving a BNP pamphlet through the door was driving to work down Broadstone Road when he spotted Mr Warner and Mr Williams leafleting in the Reddish area. He pulled over in the middle of the road in his black BMW and asked them what they were doing and if the 'offensive' leaflet was theirs and why had they not checked out the demographic of the area before pushing the leaflet through his door.
Mr Warner, who in court claimed he could "spot a Muslim" and said he did not find the word "P*ki" offensive, claimed Mr Latif had said "you best watch what you are doing, someone might follow you home" and claimed the accused had used abusive language and called them "Nazis."
He then claimed Mr Latif had got out of the car and followed the pair before trying to take the bag from him. After the incident Mr Warner and Mr Williams went to a betting shop in Reddish then walked to Stockport Town Centre police station to report the incident.
Mr Latif denied the accusations, claiming he was going to dispose of the leaflet at a garage when he spotted the pair and was simply trying to question them on their policies and give them the leaflet back.
Manchester Evening News, 10 September 2009
---
What is appalling here is the fact that the case even came to court in the first place. A Muslim gets arrested and hauled before magistrates on nothing more than the say-so of a couple of fascists.