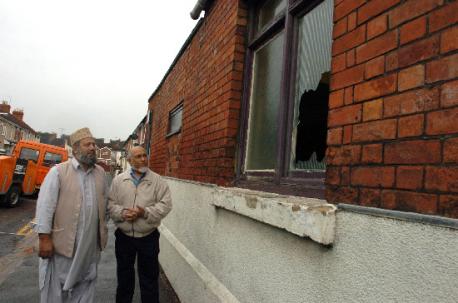 Muslim leaders say the town's Islamic community should still be alert for backlashes stemming from incidents around the world.
The warning comes after racist firebomber Mark Bulman admitted attacking the Broad Street mosque in August following terror alerts at UK airports in the same month. The 22-year-old admitted throwing a petrol bomb through the window of the building and daubing swastikas and anti-Islamic abuse on its walls.
Azim Khan, of the Thamesdown Islamic Association, said: "It is a great relief to the whole community that this man's actions have been brought to court and dealt with swiftly, and that his actions were his own and not backed by others or an organisation, as that would be very dangerous.
"But we still have to be alert. If anything happens anywhere in the world, we must consider that we could be a target, even though we have no interest in what goes on elsewhere.
"We are part and parcel of the community in Swindon. We are Swindonians and we want everyone to know that we have nothing to do with international incidents or politics. We just want to get on with our busy lives in this country."
Bulman appeared at Swindon Crown Court on Friday wearing a grey sweatshirt and faded jeans.
The court heard that he threw a petrol bomb through a window of the mosque during the early hours of Thursday, August 17, but it did not go off. He also scrawled racist graffiti and swastikas on the outside of the building, which has been a target for extremists in the past. In the same spate of attacks he left racist messages on a wall in Turl Street.
Bulman, of no fixed abode but originally from Moredon, admitted arson, attempted arson and two counts of religiously aggravated criminal damage.
Claire Marlow, defending, said that her client had been seen by a psychiatric nurse who, following a preliminary assessment, said he did not have any mental health problems. But she said bearing in mind the arson offences the court might benefit from a full psychiatric report.
Judge Tom Longbotham said: "Arson is always worrying and I think the court might be criticised if it didn't have a medical report." Adjourning the case and remanding Bulman in custody, the judge said:
"You have pleaded guilty to a very serious charge indeed. I want you to be under no misapprehension at the moment about the seriousness of the charges. Certainly on the information known to the court, I am told you recognise custody is almost inevitable. Indeed that is absolutely right."
This is Wiltshire, 23 October 2006
Update:  See "Man admits firebombing mosque", This is Wiltshire, 23 October 2006
Update 2:  See also "Racist jailed for arson attack on mosque", Swindon Advertiser, 6 January 2007