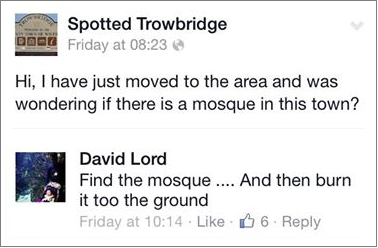 Following complaints to Wiltshire Police about a message posted on the Spotted Trowbridge Facebook page, police in West Yorkshire have charged a man with malicious communication.
David Lord, 27, of Ravenscliffe Avenue, Bradford, West Yorkshire, was arrested and charged by West Yorkshire Police on Tuesday after officers in Wiltshire were alerted to the message. He will now appear at Bradford Magistrates' Court on June 2.
Police received several complaints about the message, as well as others on the page, which was posted in response to an anonymous post last Friday asking whether there was a mosque in Trowbridge.
Sgt Jim Suter, of Trowbridge Police, said: "We had several complaints from the public regarding comments made on the original post and a 27-year-old man has now been charged with an offence of malicious communication. There were other posts that are still being investigated.
"This is not the first time we have arrested someone following comments put on Spotted Trowbridge and people need to be aware that we do monitor the website.
"Some seem to think that they can hide behind a computer screen and that we can't find them, which is disproved by this case. Even if someone uses a fake account, they are easily traceable. If you wouldn't say something in front of a police officer in the street, then don't put it on Spotted Trowbridge."
Police confirmed they had also been in contact with Trowbridge Mosque in Longfield Road, and members of the Muslim community.
Inspector Chris Chammings said: "Wiltshire Police will not tolerate any actions, either in person or via social media, which could cause fear in our communities and incite racial hatred. Within a few hours we can work with other police forces to bring offenders to justice. People should think before they post things on social media."