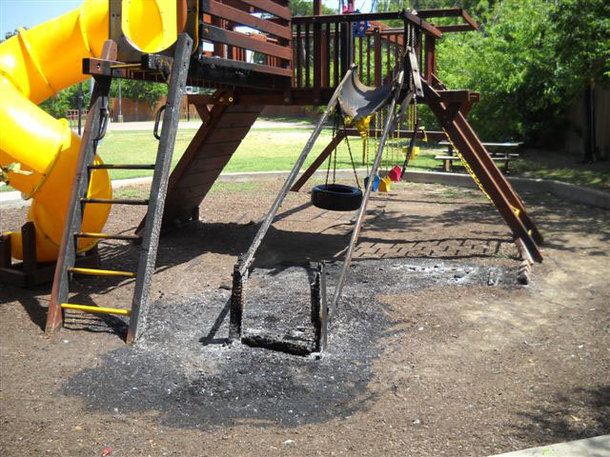 A 34-year-old Arlington man faces federal civil rights charges on allegations that he set fire to playground equipment at a South Arlington mosque last summer.
Henry Glaspell faces a maximum of 20 years if convicted of damaging or destroying religious property in a July 25 fire at the Dar El Eman Islamic Center on Mansfield Road near Green Oaks Boulevard.
Glaspell is accused of setting playground equipment on fire there "because of the race, color and ethnic characteristics of the individuals associated with that property," according to the criminal complaint.
Jamal Qaddura, former president of the board of the Dar El Eman Islamic Center, said Glaspell was caught on surveillance video starting the fire. Two days before, Qaddura said, the cameras captured him spray-painting obscenities on the center's parking lot.
The fire and vandalism occurred as controversy raged nationally over the construction of the "ground zero mosque" in New York. "We guess that's what whipped him up," Qaddura said Tuesday.
The fire destroyed about $20,000 worth of playground equipment, Qaddura said. The mosque subsequently put up a $40,000 fence and installed a new $12,000 surveillance system. "It's cheaper than replacing a mosque that's been burned down," he said. "We want people to feel safe when they come to worship."
Dallas Morning News, 22 February 2011
Update:  See "Man pleads guilty to setting fire at Arlington mosque playground", Dallas Morning News, 23 February 2011