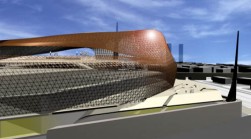 Jonathan Glancey interviews Ali Mangera and Ada Yvars Bravo, the architects responsible for designing the proposed Markaz at West Ham.
The piece is informative, and broadly sympathetic. "We're trying to design a welcoming and beautiful building," Mangera is quoted as saying, "yet at times I feel I'm being accused of designing a bomb factory."
But you do despair of ever reading an article on this issue which avoids recycling the stuff about the FBI claiming that Tablighi Jamaat is a recruiting ground for al-Qaida, or how 7/7 bomber Mohammed Sidique Khan reportedly attended the Dewsbury Markaz.