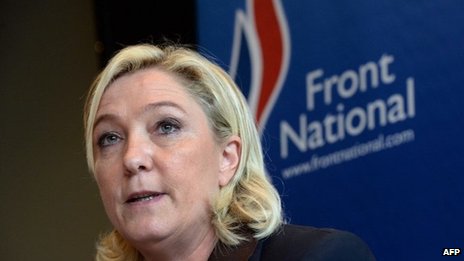 Marine Le Pen, whose party is riding a wave of anti-immigration and anti-Muslim voter sentiment around Europe, says it will cut public funds to religious groups in towns where it wins municipal elections this month.
Le Pen told The Associated Press in an interview Monday that secularism will be strictly applied in towns where her far-right National Front prevails on March 23 and 30, and that referendums will be held on major issues.
Le Pen, 45, praised the recent Swiss decision, in a referendum, to cap immigration, saying countries have an "inalienable right" to control their borders. Le Pen claimed the Swiss decision, passed by a razor-thin 50.3 percent "yes" vote, would have sailed through France with a 65 percent approval rating if such a referendum held here.
Le Pen – who took the helm from her father, party founder Jean-Marie Le Pen, in 2010 – has worked to remove the stigma that has kept the party out of mainstream politics by giving it a kinder, more politically correct face. But the National Front has forged ahead with its anti-immigrant stance, especially regarding Muslims.
In towns the National Front might win, Le Pen said that local taxes would be lowered and public funds would be denied to any association with a religious character. Current law forbids funding religious organizations, but they can receive money if their work also addresses the general interest. In reality, that means many associations would risk losing public funds.
A strict application of the principle of secularism could mean removing halal food in school cafeterias, forbidding Muslim women in scarves to accompany children on class trips, and prevent Muslim women from renting public swimming pools after hours.
"I'm absolutely not afraid to be called anti-Muslim because I'm not," Le Pen said.
Le Pen – who calls herself a "patriot" rather than a member of the extreme right – claims that her party neither deals in nor encourages the rising Islamophobia in France. She blames "political-religious groups" who want to install Muslim Sharia law in France and use "massive immigration" to do so.
"We don't have problems with Islam," she said. But "France has Christian roots. They (the French) want to recognize their own country, recognize their lifestyle, their habits, their traditions."