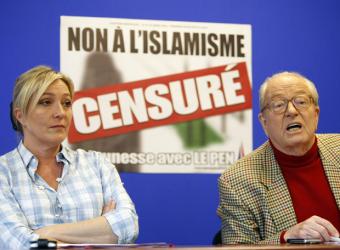 French far-right hopeful Marine Le Pen hit out at "Islamic fundamentalism" on Israeli radio Wednesday after commentators initially blamed European anti-Semitism for deadly shootings that killed seven people, four at a Jewish school.
Self-declared Al-Qaeda militant Mohamed Merah, a 23-year-old Frenchman of Algerian descent, was under police siege in the southwestern city of Toulouse after the triple shootings that sparked a wave of soul-searching in France about attitudes towards immigrant communities.
"The identification of the killer only confirms what I've been speaking out against for years – there's growth of Islamic fundamentalism in our country that the powers-that-be have underestimated," National Front presidential candidate Marine Le Pen told Tel Aviv private radio 90 FM in a live interview.
"Whole neighbourhoods of the suburbs (of our big cities) have fallen into the clutches of the fundamentalists, weapons are all over the place and foreign funding is pouring in," she said, speaking in French on the Israeli station.
A spokesperson for Front de Gauche presidential candidate Jean-Luc Melenchon has denounced Le Pen's Front National as "vultures" feeding at the scene of the crimes. Alexis Corbière stated: "Throughout this campaign, yesterday as today, Marine Le Pen has had the same goal – to feed a Crusader spirit inspired by religious war under the theory of a clash of civilisations."