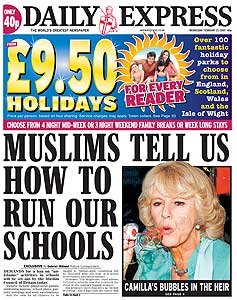 "Demands for a ban on 'un-Islamic' activities in schools will be set out by the Muslim Council of Britain today.
"Targets include playground games, swimming lessons, school plays, parents' evenings and even vaccinations. And the calls for all children to be taught in Taliban-style conditions will be launched with the help of a senior Government education adviser….
"Terry Sanderson of the National Secular Society said the report was a 'recipe for disaster'…. 'The MCB shouldn't try to force its religious agenda on children who may not want it. The Government needs to send the MCB packing'."
Daily Express, 21 February 2007
For the MCB's actual position, see here.
For the inspiration this sort of irresponsible press coverage provides for the far right, see here.
For a demolition of the Express's lies, see Five Chinese Crackers, 21 February 2007