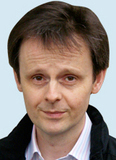 Unlike the rest of the press The Herald has gone to the trouble of asking Muslim organisations in the UK for their response to the Gillian Gibbons case.
Naeem Raza of the Islamic Society of Britain told the paper: "If this is true it is religion gone mad. There should be some honour in Sudan that Mohammed was the most popular name. They are children for goodness sake." And a spokesman for the Muslim Council of Britain is quoted as saying: "This appears to be a horrible misunderstanding. We hope the Sudanese authorities will move swiftly to end this unfortunate incident by releasing this woman."
But this is just not good enough for Damian Thompson, Telegraph leader writer and editor-in-chief of the Catholic Herald. In a piece on his Holy Smoke blog headed "'Moderate' Muslims speak out" (note the sneer quotes round "moderate"), Thompson entirely ignores Naeem Raza's statement and complains that the MCB are "very moderate in their defence of a middle-aged lady who faces 40 lashes for doing nothing wrong. Funny, that."
Good to see that Damian's still doing sterling work in promoting harmonious interfaith relations.
See also MCB press release, 27 November 2007