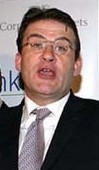 Speaking at a Labour Party conference fringe meeting, Home Office security minister Tony McNulty has stated that it was "a mistake to treat the Muslim Council of Britain as if it was the only voice of British Muslims and to 'elevate it to an exclusivity that wasn't warranted'," according to a BBC news report.
He claimed that the MCB's response to the failed terror attacks in London and Glasgow this summer had been "profoundly different" to 7/7 and praised former communities secretary Ruth Kelly for "recalibrating" the relationship between the government and the MCB.
Of course, the "recalibration" carried out by Kelly involved shunting a genuinely representative organisation like the MCB aside in favour of the ridiculous neocon-inspired Sufi Muslim Council that represents nobody at all – but had the advantage from Kelly's standpoint that, unlike the MCB, it didn't criticise UK foreign policy.
As for the MCB's supposed "profoundly different" reaction to the London and Glasgow terrorist attacks compared with their response to 7/7, this is a myth that appears to be accepted wisdom in government circles – home secretary Jacqui Smith made the same claim in a recent interview with the New Statesman – but lacks any basis in fact.
The MCB press release of 7 July 2005 was headed "British Muslims utterly condemn acts of terror", and the then secretary general of the MCB, Sir Iqbal Sacranie, was quoted as saying: "We must and will be united in common determination that terror cannot succeed. It is now the duty of all us Britons to be vigilant and actively support efforts to bring those responsible to justice."
The MCB press release of 3 July 2007, though rather longer and more detailed, took an identical line, stating that "those who seek to deliberately kill or maim innocent people are the enemies of all of us" and that the police "deserve the fullest support and cooperation from each and every sector of our society, including all Muslims".
In other words, the change that Kelly's so-called "recalibration" has brought about in the MCB's position on terrorism is precisely zero. Perhaps McNulty should talk to someone who actually knows something about the subject rather than to people like Martin Bright, Shiv Malik and Nick Cohen.