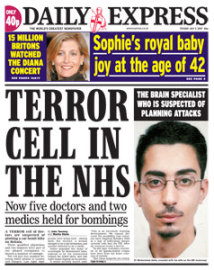 In response to media reports that alleged terrorist suspects "are linked to the NHS", Unite – the third largest trade union in the NHS – urged the media to report the events calmly and responsibly.
Unite Head of Health Kevin Coyne said, "It is important to remember that these criminal actions have been carried out by individuals – the blame should not be placed on whole communities. In particular, we are concerned that there has been a disproportionate focus in the media on the link to the NHS.
"The NHS relies very heavily on the skills and hard work of employees from minority ethnic backgrounds, whether they have been born in Britain or have come here from abroad to work for the health service. Their contribution is greatly valued and they should not be demonised."
Over 14 per cent of people working in the NHS are from black and minority ethnic backgrounds, compared with 9.4 per cent of the working population. Among some professions the proportions of black and minority ethnic staff are even higher.
Amicus press release, 4 July 2007
---
For an example of the way the hysteria about "Muslim terrorists in the NHS" is being exploited by far right racists, see BNP news article, 4 July 2007