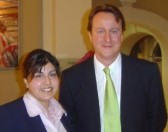 "The biggest risk to David Cameron's leadership to date has been his appointment of Sayeeda Warsi as the shadow minister for community cohesion.
"Warsi's rise makes Cameron's ascent from freshman MP to leader in four years look almost sedate. In just two years she has gone from failed parliamentary candidate to being responsible for, perhaps, the most sensitive portfolio in opposition politics. Add in her history of making injudicious statements about anti-terror laws, talking to extremists, and Iraq – combined with some distinctly unCameroon views on homosexuality – and you have a pretty volatile cocktail. Especially as having staked his reputation on her judgment, Cameron cannot sack her.
"Even among those who are normally sympathetic to the Cameron project, Warsi's appointment was viewed as a stunt too far. After all, she has observed that the government's anti-terror proposals were 'enough to tip any normal young man into the realms of a radicalised fanatic' and said that if 'terrorism is the use of violence against civilians, then where does that leave us in Iraq?' These concerns were assuaged, to an extent, by the naming of Paul Goodman as the Commons spokesman for her brief. Goodman, a former comment editor of the Daily Telegraph, has developed robust views on the need for the political class to wake up to the threat posed by extremist Islamist ideology."
Actually "the shadow minister for militant Islam" refers to Goodman rather than Sayeeda Warsi … I think.