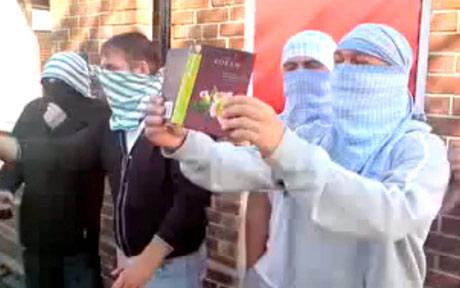 Seven men accused of burning a Koran in a Gateshead pub car park and posting the video online will not be prosecuted.
Wendy Williams of the Crown Prosecution Service said the majority of people would find the inflammatory incident "repugnant". But she added there is not enough evidence to create a realistic chance the men would be convicted of any offence. Mrs Williams said: "If any further evidence comes to light and is sent to us, we will look at it."
Police arrested seven men on suspicion of inciting racial hatred after a video recording was posted on YouTube last September. It showed a group of young men in hooded tops or wearing scarves over their faces pouring petrol on a book and setting it alight. They cheered as the book bursts into flames during the incident.
Those involved later told police they did not intend to offend anyone and very few people saw what happened at the time.
The men may have been copying Terry Jones who threatened to burn the holy book on September 11. The Florida-based Pastor sparked an international outcry but did not go ahead with the provocative plan.
Prosecutors said police could not identify who recorded the video and posted it online and there was not enough evidence those involved were threatening anyone. They added that the men could not be charged with a religiously aggravated public order offence because they could not prove anyone was there who was distressed.