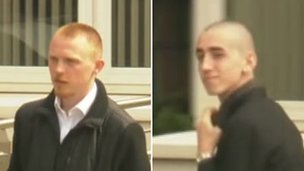 A young fascist with a fascination for Norwegian mass murderer Anders Breivik has admitted plotting to damage mosques. John Roddy and his friend Tobias Ruth daubed racist graffiti on an Islamic Centre in Torbay and sent threatening messages. They were both warned they faced jail after Roddy admitted having a terror manual on his computer.
The pair were arrested in January after an area of Torquay was sealed off by armed police who feared they may be dealing with a terrorist cell. Roddy's laptop contained an "al-Qaeda training manual" and Breivik's "2083 A European Declaration of Independence". Breivik was the inspiration of the plotters, who daubed the letters KT 2083, standing for Knights Templar, and referring to the mass killer's manifesto.
Roddy, 20, of Lymington Road, Torquay, and Ruth, 19, of Morgan Avenue, Torquay, pleaded guilty to conspiracy to cause criminal damage and to send articles containing threats which were intended to cause distress. Roddy also admitted an offence under the Terrorism Act of possessing information likely to be useful to a terrorist.
Judge Francis Gilbert, QC, bailed the men at Exeter Crown Court but warned them they faced jail when they return for sentence next month. He said: "These are serious offences for which they must expect immediate custody. I warn them that all options including custody are open."
Lee Bremridge, defending Roddy, asked said he hoped to present medical evidence showing his client suffered from Asperger's Syndrome or autism. He said: "He lives with his family in Torquay and there is a considerable background as far as his health is concerned. I suggest a report will be needed in respect of Asperger's Syndrome and there is a suggestion autism as well."
The case was transferred back to Exeter after initially being heard at the Old Bailey in London because of it was classified as terrorist crime. It arose from a police inquiry into racist graffiti attacks in Brixham and Torquay from July 2012 to this January. Racist slogans had been daubed in red paint on Torquay's Islamic Centre and threatening notes were sent to mosques elsewhere in Britain including Brighton and Plymouth.
Roddy was arrested in early January on suspicion of criminal damage in Torquay after another graffiti attack on a billboard. He had a red spray can with him and the paint on the billboard was still wet. His family home in the seaside town was searched and prosecutor Michael Atkinson told an earlier hearing that material including ingredients used in making explosives were seized.
At the time police said these ingredients could cause a "substantial explosion". During the police raid the bomb squad was also called in and the area around Roddy's home was evacuated.
Slogans daubed in the area included "Die Ragheads", "Pakis go home" and "BNP for life – KT". Police also found references to body armour and how to manage a terror organisation including dealing with surveillance and counter surveillance. Officers also found magazines and papers with letters missing which had been used to write five notes in envelopes sent to mosques threatening them to "leave town or there will be hell to pay".
The pair were targeting Muslim places of worship. After Breivik's killing of 77 people in Norway, both men performed an initiation ceremony during which they branded each other on the arm with a cross.
After the hearing Devon and Cornwall police Detective Inspector Costa Nassaris said:
"The police worked closely with other agencies to ensure any risk was dealt with at the time. Although one of the offences is under the Terrorism Act it is important to maintain a perspective on this and I can reassure people that there was not an immediate risk of serious harm to the general public. The two men referred to themselves as Knights Templar and demonstrated an extreme right ideology with a particular hatred of Islam but in reality there were not part of a wider more organised group.
"The letters sent to the mosques caused particular distress and I am glad we are now able to reassure those victims that the offenders have been dealt with. The police will deal robustly with any attempts to spread religious discord within our community."
Western Morning News, 24 August 2013
See also "Torquay man admits having terrorism manual", BBC News, 23 August 2013
In addition to their support for the British National Party, both Roddy and Ruth can be found listed as members on the English Defence League website.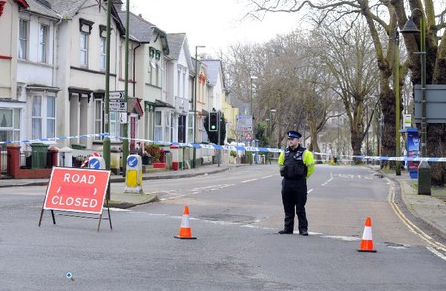 Torquay road cordoned off in January while explosives experts searched John Roddy's home