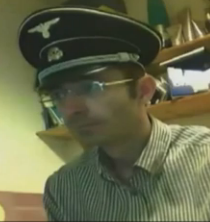 A Nazi sympathiser who plotted to blow up mosques and Islamic centres has been jailed for 10 years.
Ian Forman, 42, developed a homemade bomb and researched religious venues in Merseyside, Kingston Crown Court heard.
Forman, of Shavington Avenue, Oxton, Birkenhead, was detained after work colleagues found him researching chemicals and explosives on the web. The explosive was discovered during a police raid, along with a replica Nazi uniform and bomb plans.
Officers said seized computers showed evidence of internet research into a number of mosques in Merseyside, including Penny Lane Mosque, Liverpool and Wirral Cultural Centre, Birkenhead. The court also heard Forman had video clips of himself experimenting with explosives and a homemade anti-Islam video.
He admitted having extreme right wing views in his youth but claimed he no longer thought like that, when he was questioned by police. Forman, who denied engaging in conduct in preparation of terrorist acts contrary to the Terrorism Act 2006, had claimed his research was for his hobby, making homemade fireworks. However in March, a jury found him guilty after an 11 day trial.
Speaking after Forman was sentenced, Det Sgt Matt Findell said: "Thankfully, we will never know how far Forman was prepared to go in acting out his racist fantasies. However, we do know that Forman had carefully selected a number of targets to meet his own means. Had he carried them out, his attacks could have caused considerable damage to both property and people at several mosques."
For more details, see the Liverpool Echo, 1 May 2014
See also "Neo Nazi Ian Forman who wanted to light up the sky with burning mosques in plan", Daily Mail, 1 May 2014