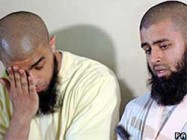 Scotland Yard yesterday faced fresh controversy after it emerged that the man accidentally shot by police during an anti-terrorism raid in east London last year has claimed armed officers again threatened to shoot him and subjected him to racist abuse during a second recent incident.
Mohammed Abdul Kahar, 23, who was shot in the shoulder during a raid by police on his home in Forest Gate in 2006, says he and his brother Abul Koyair, 20, were stopped by armed police with one officer shouting "shoot him, shoot him".
According to their account they were on a motorbike near their home two months ago when they stopped to watch a police operation at a pizza takeaway. As they drove off, they were followed by police and ordered to stop. According to the brothers, one officer emerged from the car carrying a handgun. A second officer allegedly shouted "shoot him, shoot him, put him down." Mohammed Kahar said that he then replied: "Don't shoot me, my hands are in the air."
The brothers say they were manhandled off the motorcycle and one was pushed to the ground while the other was handcuffed. They claim that they were called "Paki", "tossers" and "wankers". Mohammed Kahar said he heard one officer say "that's the two brothers" and another asked "how many millions do you get?" – presumably a reference to compensation to be paid to the men over last year's raid. Their sister, who was passing by on a bus, intervened and was charged with a public order offence for which she has been issued with a fixed penalty notice.