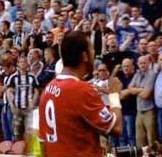 Football's simultaneous ability to enthral and appal was encapsulated on an afternoon when Julio Arca's bewitching passing could not quite erase the depression imposed by the moronic behaviour of some Newcastle fans.
Listening to them persistently subject Mido, Middlesbrough's new Egyptian striker, to vile and ignorant Islamophobic abuse detracted from a compelling game that was dominated by Gareth Southgate's gloriously creative side.
Fed up with being stereotyped as a terrorist bomber in a barrage of anti-Arab abuse, the Egyptian celebrated his first-half goal by walking over to the away fans and pressing a finger tight to his lips. Adhering, pedantically, to the strict letter of the law, Mike Dean booked him.
"I find it strange that 3,000 people can abuse one person and nothing is done. On the other hand, when the boot is on the other foot, it gets him into trouble. In terms of civil liberties I find that strange," said Southgate. "We had to calm Mido down at the end of the first half."
Further coverage in the Daily Mirror and Middlesborough Gazette.
See also Osama Saeed's comments at Rolled Up Trousers, 27 August 2007