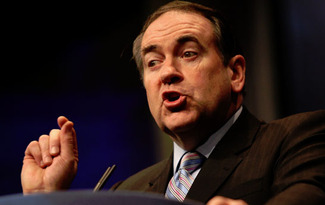 Never one to let facts interfere with his opinions, Mike Huckabee recently compared Muslims on holy days to "uncorked animals." The benighted former Arkansas governor made the comments on his radio show Wednesday, saying that Muslims emerging from mosques on Fridays, the day of prayer, "come out of there like uncorked animals, throwing rocks and burning cars".
Noting that the recent terror alert coincides with the end of Ramadan, Huckabee pointed to the alleged superiority of Christians, saying that on Easter and Christmas, the worst that happens with Christians is that people overeat, while Muslim holy days are when a lot of protests occur.
Of course, he neglected to mention that Muslim holy days are when many people are off work to fulfill religious duties and are often congregating in public spaces, making those days perfect for organizing a protest against a dictator or military coup.
It isn't the first time that Huckabee has made derogatory comments about Muslims. In 2011 he criticized Islam as being the "antithesis of the gospel of Christ" and criticized America's tolerance of its Muslim population as "un-American," asking why Muslims should receive special treatment "at the expense of others."