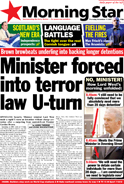 Minister forced into terror law U-turn
By James Tweedie and Louise Nousratpour
Morning Star, 15 November 2007
SPINELESS Security Minister Admiral Lord West made a rapid U-turn on detention without charge on Wednesday after a carpeting from control-freak Premier Gordon Brown.
Speaking on BBC radio at 8.10am, Lord West declared that he was not convinced of the need to extend pre-charge detention for terrorist suspects beyond the current 28-day limit.
"I want to have absolute evidence that we actually need longer than 28 days," he said. "I want to be totally convinced, because I am not going to go and push for something that actually affects the liberty of the individual unless there is a real necessity for it."
After his interview, Lord West scurried off to a meeting with Mr Brown and Home Secretary Jaqui Smith before a Commons statement on security.
By the time he emerged from the meeting at 9.15am, he had mysteriously changed his tune. "My feeling is, yes, we need more than 28 days," he told reporters. "I personally absolutely believe that, within the next two to three years, we will require more than that for one of these complex plots. I am convinced that is the case," said Lord West.
He later insisted in another statement: "I am quite clear that the greater complexities of terrorist plots will mean that we will need the power to detain certain individuals for more than 28 days.
"I am convinced that we need to legislate now so that we have the necessary powers when we need them. The government would be failing in its responsibility to protect national security if we waited until we needed more than 28 days to act."
Referring to his original position, he claimed: "I was stating this morning that there will need to be scrutiny in the system, and robust evidence against individuals, to safeguard their rights." He went on to plead that he was only "a simple sailor" and not a politician.
Respect MP George Galloway said: "It's clear that even the security minister isn't convince of the need to lock people up without charge for a longer period than even the dictatorship of Turkey used to do. If the minister is not convinced, why should anyone believe that the nodding heads on the Labour back benches truly believe it either?"
Labour MP Bob Marshall-Andrews archly observed: "Some people are remarkably easily persuaded."
Tory leader David Cameron was quick to cash in on the debacle, saying: "I think that people will conclude two things. First, that Admiral West was leant on. Second, and more worryingly, won't this episode confirm in some people's minds that the government isn't so much concerned with the evidence as with the politics?"
Amid the confusion over Lord West's views on detention limits, Mr Brown announced measures to "enhance" anti-terror security measures at railway stations, airports and ports. These will include physical barriers, vehicle exclusion zones and making buildings blast-resistant. Passengers at large stations will face having their bags screened, while airport luggage controls will be relaxed from next year.
MP Patrick Mercer, who acts as Mr Brown's security adviser, recommended the new measures. Mr Brown insisted that the new measures must go alongside redoubled efforts to win the "hearts and minds" of the Muslim community and ensure that young people do not fall under the influence of extremists.
But Muslim group Ramadhan Foundation spokesman Mohammed Shafiq said that the Premier had failed to recognise that "the illegal war in Iraq and double standards in UK foreign policy have put the UK at an increased risk to terrorism. It is like an alcoholic seeking treatment without accepting he has a problem. The government have to accept that there is a problem with foreign policy."