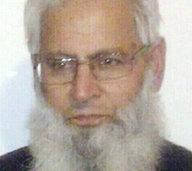 A TV appeal to find the killer of a man murdered on his way home from a mosque has prompted new leads.
Mohammed Saleem, 82, was stabbed after leaving the Green Lane Mosque in Small Heath, Birmingham, on 29 April. West Midlands Police said it had "several new leads" after a reconstruction and appeal on Thursday's BBC1 Crimewatch show. It has appealed for an anonymous man who rang with information about the attack to call back.
Det Supt Mark Payne said: "We had some really useful calls including some anonymous calls naming individuals. I'd like to reassure anyone with any information we have a really good track record of taking people through courts anonymously, we will look after them and protect them, it's really important we get this individual off the streets."
The West Midlands force said the motive for the attack, which happened at about 22:30 BST, remained unclear. It said it still wanted to identify a man seen in CCTV footage running along Wyndcliffe Road near the spot where Mr Saleem was murdered.
Crimestoppers has offered a £10,000 reward for information over the murder, with the cash being issued upon arrest and conviction of those responsible.