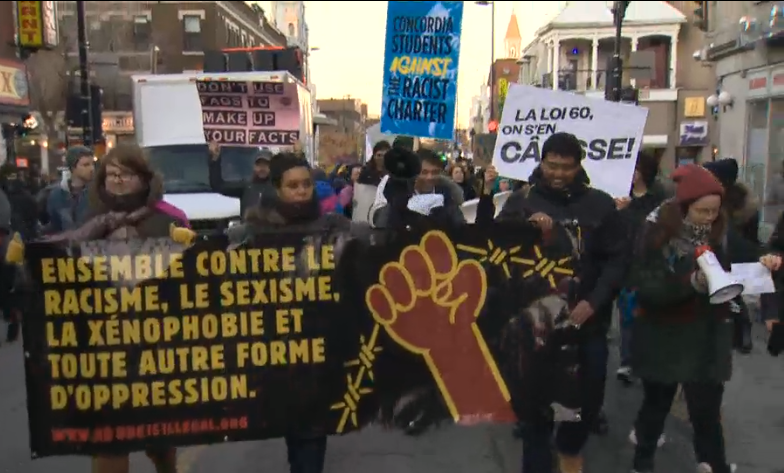 Hundreds of people marched in the streets of Montreal Friday evening to mark the International day for the Elimination of Racial Discrimination and denounce the Parti Québécois's proposed secular charter.
While the protest stopped outside PQ Premier Pauline Marois's offices downtown​, many were critical of Quebec's other political parties for not taking a stronger stand against the charter. They say no government should decide what women get to wear. "We cannot let the other parties off the hook, when they say hijab is okay, but niqab is not," said Delores Chew of the South Asian Women's Association.
Though the march was taking place in the context of an election campaign, protesters say the issue is bigger than party politics.
"People assume that there is a legitimate debate to be had about how we – presumably white people – are going to decide how immigrant people are going to integrate or participate in society. That's profoundly racist. It's as simple as that," said protest organizer Joël Pedneault.
Many protesters say they have seen as a climate of xenophobia brought on by the secular charter debate. "I think the impact has been violent. The very women that this charter seeks to protect and all this empty talk about the equality between men and women has ended in isolation and fear, which is affecting Muslim women the most," said Bita Eslami.
Some who don't normally wear religious symbols decided to don them anyway, as a show of support. "People believe in religious liberty even when their own personal liberty is not affected. And that is precisely what the PQ is trying to deny in setting up their scare campaign," said Jacob Levy, who wore a kippa during the demonstration.
Last night's protest march was technically illegal, because protesters did not provide their itinerary to police. However, police did not intervene. They followed the march through the streets of Montreal, diverting traffic. No arrests were made.
See also "Montrealers demonstrate against the charter of values", Global News, 22 March 2014