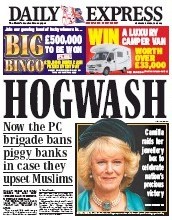 The Express (24 October) reports that piggy banks have been banned in high street banks in order to avoid offending Muslim customers.
A leader in the same issue pontificates:
"This is nonsense, piffling nonsense but dangerous nonsense, too. It is unhealthy to indulge in the sort of political correctness that makes us trim our popular culture in ludicrous ways."
---
Hogwash: Now the PC brigade bans piggy banks in case they upset Muslims
By Tony Brooks
Daily Express, 24 October 2005
Piggy banks are being banned in case they offend Muslim customers, it emerged last night.
The decision by high street banks was condemned as "barmy" and "bonkers" by critics. They warned that such moves would only fuel inter-community tensions. Branch bosses imposed the ban because they fear the time-honoured symbol for thriftiness could upset ethnic customers.
All promotional material bearing the figure has now been scrapped because the Koran forbids Muslims from eating pork and pigs are considered by them to be unclean. Muslim leaders in East Lancashire, where there is a large immigrant community and the first bans were imposed, applauded the action by the Halifax and NatWest.
But the move was condemned by critics headed by a leading Church of England clergyman. The Dean of Blackburn, the Very Reverend Christopher Armstrong, said: "This is petty and political correctness gone mad. The next thing we will be banning Christmas trees and cribs and the logical result of that process is a bland uniformity. We should learn to celebrate our differences, not be fearful of them."
He was supported by Andrew Rosindell, Tory MP for Romford, who said: "Those responsible for this decision are making themselves look extremely foolish. It is quite absurd. In no way can piggy banks be termed offensive. I cannot believe the majority of Muslims genuinely object to seeing a picture of a piggy bank on a wall or in a leaflet. This is the sort of political correctness that makes normal-thinking people very angry. It's barmy."
Mike Penning, Tory MP for Hemel Hempstead, described the decision as "bonkers". He said: "I have never met a single Muslim, and I know many, who would be offended by the image of a piggy bank. It is sheer stupidity."
But the plan was backed by Salim Mulla, secretary of the Lancashire Council of Mosques, who said: "Within our faith there are strict rules about not consuming pork or coming into contact with pigs. "This is a sensitive issue and I think the banks are simply being courteous to their customers."
The Halifax will base future promotions around Howard Brown, the customer services adviser who fronts their "Who gives you extra?" TV ads.
A spokesman said: "We no longer have any advertising that features piggy banks or is piggy bank related." NatWest admitted that piggy banks had been removed from branches in the area but insisted there had been no direction from head office. "The decision has been taken at local branch level, " said a spokesman.