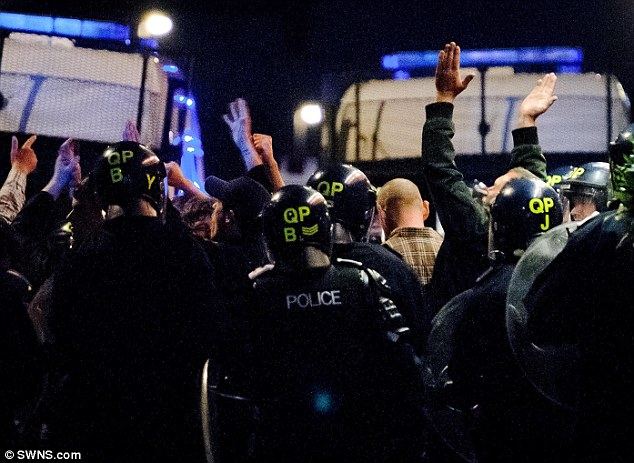 More people involved in the disorder in St George and Redfield last month have been punished.
On May 25, a walk raising money for the Help for Heroes military charity, and held in memory of drummer Lee Rigby who was murdered in London, ended in violent clashes between police and a group of about 60 people on Church Road. Anti-Muslim slurs were heard and pint glasses and bar stools were thrown in and around the St George's Hall pub.
At Bristol Magistrates' Court yesterday, Paul Lloyd admitted affray. Prosecuting, May Li told the court that the 39-year-old, of Farley Close, Little Stoke, was inside the pub when it was surrounded by a police cordon. Inside, a barricade was made, blocking the front entrance with tables. Lloyd threw several pint glasses and bar stools towards the front door and police said he could be seen mouthing "E, E, EDL", in reference to political faction the English Defence League. Ms Li said that when Lloyd left the pub, as riot police escorted people out in single file, he struck out and pulled at their shields. He will be sentenced at the Crown Court next month.
Jason Burt admitted causing racially- or religiously-aggravated harassment, alarm or distress and was fined £300, plus costs and a victim surcharge. The 24-year-old, of Barnwood Close, Kingswood, swore and insulted Muslims and their god Allah, and chanted about the EDL. Police filmed him taking off his shoes, kneeling down on the floor and mimicking the Muslim prayer ritual, while inciting others to do the same.
Andrew Mills said proudly "God save our Queen" after he was sentenced to a ten-week curfew for using threatening, abusive or insulting words and behaviour. The 46-year-old grandfather was at the rear of St George's Hall at about 8.20pm when he swore at police and threw a pint glass which smashed a metre away from one of the police horses.
See also "Man admits punching police officer during St George Help for Heroes march", Bristol Post, 18 June 2013
And "Man admits mocking Muslim prayer during weekend unrest in St George", Bristol Post, 28 May 2013