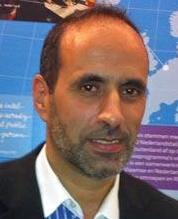 Moroccan Islamist Hassan Bakir has fled back from Spain to the Netherlands. After ten weeks of detention and house arrest, waiting for a Spanish decision about his extradition to Morocco, he thought it was time to go. Back in the Netherlands, he wants to clear his reputation. "I am falsely depicted here as a dangerous terrorist."
Last Friday, the Spanish council of ministers authorized the judge to proceed with the extradition procedure of Hassan Bakir to Morocco. For Bakir it was the last drop. "I didn't do anything wrong. All that time I have waited for them to find that out and release me. But the decision of the council of ministers really scared me so I decided to flee." He left the address where he was under house arrest and travelled over land to the Netherlands in two days.
Bakir, secretary general of the Moroccan Islamist opposition group Shabiba Islamiyya, was sentenced to death in 1985 in Morocco for his political activities. On the basis of that conviction, he was granted political asylum in the Netherlands in 2007. But last July, during a visit to Spain, he was arrested by Spanish police whereupon Morocco asked for his extradition. He spent two weeks in prison and then stayed under house arrest with a relative near Madrid.
Bakir is angry with Dutch journalists who, after his arrest in Spain, described him as a dangerous terrorist. "I can prove with documents that neither me nor the movement I belong to have anything to do with terrorism. In fact, we are one of the few Islamist movements that strongly denounced the 9/11 attacks immediately after they happened." Bakir and his Dutch lawyer are considering legal steps against journalists of Dutch newspapers De Volkskrant and De Telegraaf.