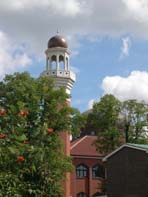 Muslims in Oxfordshire have denied they had plans to broadcast a call-to-prayer from their mosque. In January, there were reports of an application to attach a loudspeaker to the Central Mosque in Oxford. The Bishop of Oxford, Rt Revd John Pritchard received a death threat after he lent his support to the idea. But the mosque's treasurer, Masood Ahmed has now said no planning application to broadcast the call-to-prayer was made.
Mr Ahmed said some members had considered having three two-minute calls a day or calls only on Fridays, and looked into the idea. He said they may have been "slightly misguided." He told the BBC: "All we did was just inquire what the planning applications involved, and that was all, there wasn't any formal planning application whatsoever. We have a very good relationship with our neighbours, and if any application was to be put in place, then we would have consulted our neighbours first before we went ahead."
He said currently the mosque, in Manzil Way, Cowley, used short-wave radio transmitters to broadcast its call-to-prayer, which was a system that worked well. Mr Ahmed said currently there was "no plan" to put in a planning application.
After an interview in January on the subject, Bishop John received "hundreds of letters, e-mails and phone calls, both positive and negative". He said: "At the extreme end some of the comments were certainly unpleasant, and I did receive a death threat. On the ground in Oxford, I am glad to say that Christians and Muslims enjoy good relationships, and I am in regular contact with leaders of other faiths."
The Central Mosque is one of four east Oxford mosques, attracting congregations of up to 700.