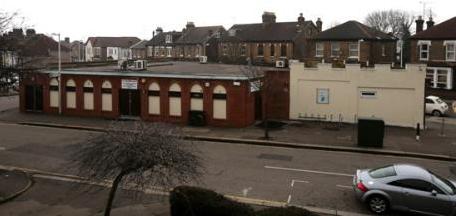 South Woodford Muslim Community Centre as it is at present
A controversial proposal to build a new mosque in South Woodford has been rejected.
The Qu'rani Murkaz Trust applied to demolish its existing South Woodford Community Centre Mosque in Mulberry Way and erect a new three-storey building.
The six councillors on the planning committee were last night split down the middle on the plan, leaving chairman Cllr Robin Turbefield with the deciding vote.
The development, which included a ground floor prayer room, a community hall on the first floor and four residential flats on the second floor.
Cllr Turbefield decided the plan was not compatible with, or contributing to, the distinctive character of the area. It was said the height of the building would also 'unreasonably' restrict sunlight and undermine privacy.
Speaking after the decison at Sir James Hawkey Hall in Broomhill Road, Woodford Green, trust secretary, Quaser Malik, 63, said: "I am disappointed by the decision taken here tonight, but there are fair grounds for appeal. I am hopeful having complied with all the recommendations that we will succeed at an appeal."
Cllr Gwyneth Deakins voted against the application, citing concerns about the quality of the accommodation, a lack of privacy for residents living opposite the proposed 30ft building and parking problems.
She said: "I voted against the application because the size and bulk was too overwhelming for the location, and would affect the privacy of nearby homes, and increased traffic would be generated from the four flats. It was a tough decision to make."
Louise Williams, 42, of Mulberry Way, was one of 12 local residents or business-owners who spoke against the development. She said: "I am pleased with the decision. I have always been supportive of the presence of the mosque but I don't want it to be bigger.
"I appreciate they try to minimise the disruption during prayer time or any other congregations but having over 200 people coming out onto the street makes noise, and had it been approved, it would have got worse."
Explaining his decision to vote in favour of the proposal, Cllr Richard Hoskins said: "I couldn't find planning reasons for turning it down. There are other larger buildings locally with balconies that are overlooking into other properties and they have been approved.
"I am sure local residents will naturally be pleased. If I was a betting man, I think the QM Trust will win the appeal."
Over 100 people attended the meeting and the committee received over 300 requests from the public to speak. Police were present at the meeting as a precaution. However, there was no trouble.
---
The planning committee's decision has been well received in some quarters. Here is a selection of comments posted on the English Defence League's Facebook page: