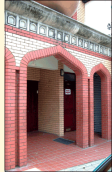 Leaders of a Leyton mosque have criticised a television documentary associating them with international Islamic extremism.
The Masjid-al-Tawhid mosque in Leyton High Road appeared in Undercover Mosque, a Channel 4 Dispatches documentary screened last week. The programme focused on extremist preachers encouraging congregations to practise violence against women, homosexuals and non-Muslims.
Among those featured was Shaykh Suhaib Hassan, senior Imam at Masjid-al-Tawhid. He was quoted predicting the establishment of an Islamic state under Sharia law and detailing some of the extreme punishments, such as flogging of drunkards, that would be carried out in such a state.
Shaykh Hassan says, however, that his remarks were taken out of context, and that he has never said Sharia law would be appropriate for Britain. "Britain is a democracy, and I have said many times that Muslims should participate in elections. It is a good system," he said. "Why blame a western country for not implementing Sharia law when Muslim states like Pakistan do not?"
Shaykh Hassan is also unhappy at being associated with more extreme imams who preach brutality and violent jihad. "It was a gross misrepresentation. We don't say kill the Jews, kill the Christians, it's nonsense," he told the Guardian.
Masjid-al-Tawhid was also featured in The War Within, another documentary screened by CNN during the weekend, which also tackled the subject of Islamic extremism in Britain. But CNN held up Masjid-al-Tawhid as an example of a mosque able to practise a traditional form of Islam without withdrawing from the wider community.