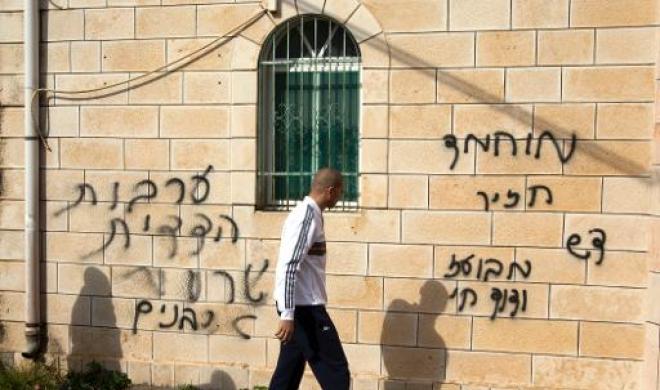 Unknown assailants vandalized a mosque in the Arab Israeli village of Baka al-Gharbiyye in northern Israel on Sunday morning, in what police fear could be a so-called "price tag" attack.
On the walls of a local mosque, graffiti was sprayed reading "Muhammad is a pig" and "greetings from Boaz and David Hai", the latter an apparent reference to Boaz Albert and David Hai, two West Bank settlers whose movement has been limited by police and army restrictions.
Locals also found a number of broken car windows in the village, and police are probing whether or not the two are linked. The damage was discovered around 5am Sunday morning, and the assumption is that the assailants caused the vandalism in the hours before.
Police said Sunday they view the incident as very grave, and vowed to find the perpetrators.
"Price tag" is used to refer to acts of political violence carried out by right-wing Israelis protesting Israeli government policy regarding the settlements and the Palestinians.
Human rights group B'Tselem stated that an additional price tag attack occured early Friday morning in the West Bank village of Jalud, near the Shilo settlement. Unknown assailants set a vehicle on fire and spray-painted the slogan "price tag," outside of a home in Jalud, according to B'tselem.
Israeli politicians have discussed increasing penalties for right-wing extremists who carry out so-called price tag attacks in order to deter such acts which have become increasingly common in recent years.
Last month, several Muslim tombstones were spray-paintedwith the words "death to Arabs" and "price-tag" in Hebrew at Mamilla Cemetery in what police deemed a nationalistically-motivated hate crime at the historic site, adjacent to Jerusalem's Independence Park. A week later, unknown assailants threw two Molotov cocktailsin a suspected price tag attack at a home in the Palestinian village of Burin, south of Nablus.
Jerusalem Post, 8 December 2013
Update:  See "Arab village declares strike after 'price tag' attack on mosque", World Bulletin, 9 December 2013